How To Keep Your Skin Hydrated #FreshSummerSkin
This shop has been compensated by Collective Bias, Inc. and its advertiser. All opinions are mine alone. #FreshSummerSkin #CollectiveBias
Keeping your skin looking fresh for the summer is something that you should be thinking about as the weather warms up. There are so many easy things you can do to prepare your skin for a fun summer outing. One thing I like to emphasize is that consistency is so important.
If you're like me, then you probably suffer from dry skin during the summer months. It's strange but totally true. I have to take extra steps to make sure my skin stays hydrated all season long.
One way I like to keep my skin feeling hydrated is to prepared my skin before I go outside. Whether I am going for a walk outdoors or playing with my little one on the playground, prepping my skin for outdoor weather is a must!
How To Keep Your Skin Hydrated
1.) Remove your makeup!
If you're going to be active outside, it's important that you're not overdoing it with your makeup. I would highly suggest that you don't wear makeup while being active outdoors. The mix of sweat, dirt, and makeup will ultimately clog your pores. You don't want to deal with breakouts during the summer (or anytime for that matter), so removing your makeup before heading out is something I like to do.
I love using the Neutrogena® hydrating makeup remover cleansing towelettes to remove my makeup. These towelettes are pre-moistened with soothing skin ingredients that will leave your skin makeup free and feeling fresh! Each towelette is soft and conditioning. It gently and effortlessly dissolves dirt, oil, and makeup (even waterproof mascara). They also include a blend of hydrators as well as cucumber and aloe extracts that leave my skin feeling soft and nourished.
The pack is re-closeable so I can easily throw this into my bag when I'm heading out in case I need to wipe off any makeup on the go.
2.) Use a Hydrating Cleanser
If I have extra time, I like to cleanse my face before heading out as well. This allows me to make sure any leftover dirt and makeup are completely gone, leaving my skin a fresh palette. I also just generally feel better when I cleanse my face, so there's that!
I like to use the Neutrogena Hydro Boost Hydrating Cleansing Gel for this step. Harsh cleansers can leave my skin feeling even more dry than usual, so it's important for me to use a cleanser that goes the extra mile in terms of hydration. This cleanser removes dirt, oil, and makeup without stripping your skin. It has Hyaluronic acid which helps replenish your skin's water reserves and it's also free of soaps and parabens to lock in moisture.
3.) Use a Moisturizer with SPF
We have all heard that SPF (sun protection factor) is important, but how important is it really? According to one study, melanoma is the most common form of cancer among young adults aged 25-29, especially women ( 1 ). High levels of exposure to ultraviolet light from the sun can damage your skin, so it's best to wear sun protection whenever you are outdoors.
One easy way to protect your skin from the sun is to wear SPF. PABA-free Broad Spectrum SPF 15 sunscreen helps prevent premature signs of aging caused by the sun. I like using moisturizers that include SPF already because it takes the job of two products.
The Neutrogena Oil-Free Moisturize with SPF 15 combines 12-hour moisture with sun protection. I love wearing this before heading out because it keeps my skin feeling hydrated while protecting against UV rays. It quickly absorbs into my skin and feels lightweight so I'm not worried about looking like a greaseball before heading outside.
4.) Drink Water!
Drinking water is probably the cheapest way to keep your skin hydrated this summer because it's free. Body water loss through sweat is an important cooling mechanism your body applies in hot temperatures and physical activity ( 3 ). However, if sweat loss isn't compensated for with fluid intake, you can lose electrolytes and suffer from dehydration.
One study shows that mild levels of dehydration can produce disruptions in mood and cognitive functioning such as concentration, alertness, and short-term memory in young adults as well ( 3 ). According to another study, water deprivation and dehydration can lead to the development of headaches and greater difficulty concentrating ( 4 ).
I'm not sure if you've experienced a headache due to dehydration before, but trust me it is not fun. That's why I always make sure to stay hydrated and drink ample amounts of water according to my dietary needs each day. It is recommended that you should drink at least half your weight in water, in ounces. So, if you weigh 140 lbs for example, you should drink at least 70 ounces of water each day at the very least. That is about 8-9 cups of water each day.
How does this impact your skin?
Your skin contains about 30% water which contributes to plumpness, elasticity, and resiliency. Skin dryness is associated with exposure to dry air, extended contact with hot water, soaps that strip oils from the skin, and even some medications ( 3 ). Water intake can improve skin thickness and density and can improve skin hydration ( 2 ). One study shows that an improvement of skin hydration was observed after additional water uptake and improvements of softness, smoothness and skin-moisturizing effect were perceived by healthy subjects ( 2 ).
Overall consensus? Drink more water!
5.) Eat More Fruit and Veggies
If you find it difficult to reach your water intake goal, try including more fruits and vegetables in your diet. I love including some fruit or vegetables with me when my little one and I are outdoors.
It's a great way to stay hydrated and provide extra energy for your activities.
Watermelons, strawberries, cantaloupe, and even grapefruits are made up of at least 90% water. Raspberries, pineapple, plums, oranges, blueberries, and even peaches are made up of at least 85% water. Cucumbers and ice berg lettuce contain the highest amount of water at about 96%. Other high water containing vegetables include tomatoes, celery, zucchini, broccoli, cabbage, and even spinach at around 90%.
Prepping fruits and veggies when you're on the go is a great way to stay hydrated, get an energy boost, and keep your skin feeling fresh all summer long!
More About Neutrogena
Neutrogena is the #1 dermatologist recommended facial skin care brand.
Neutrogena facial skin care products promote healthy summer skin regimens from make-up removal and cleansing to sun protection and hydration. You're bound to find a product that fits your routine.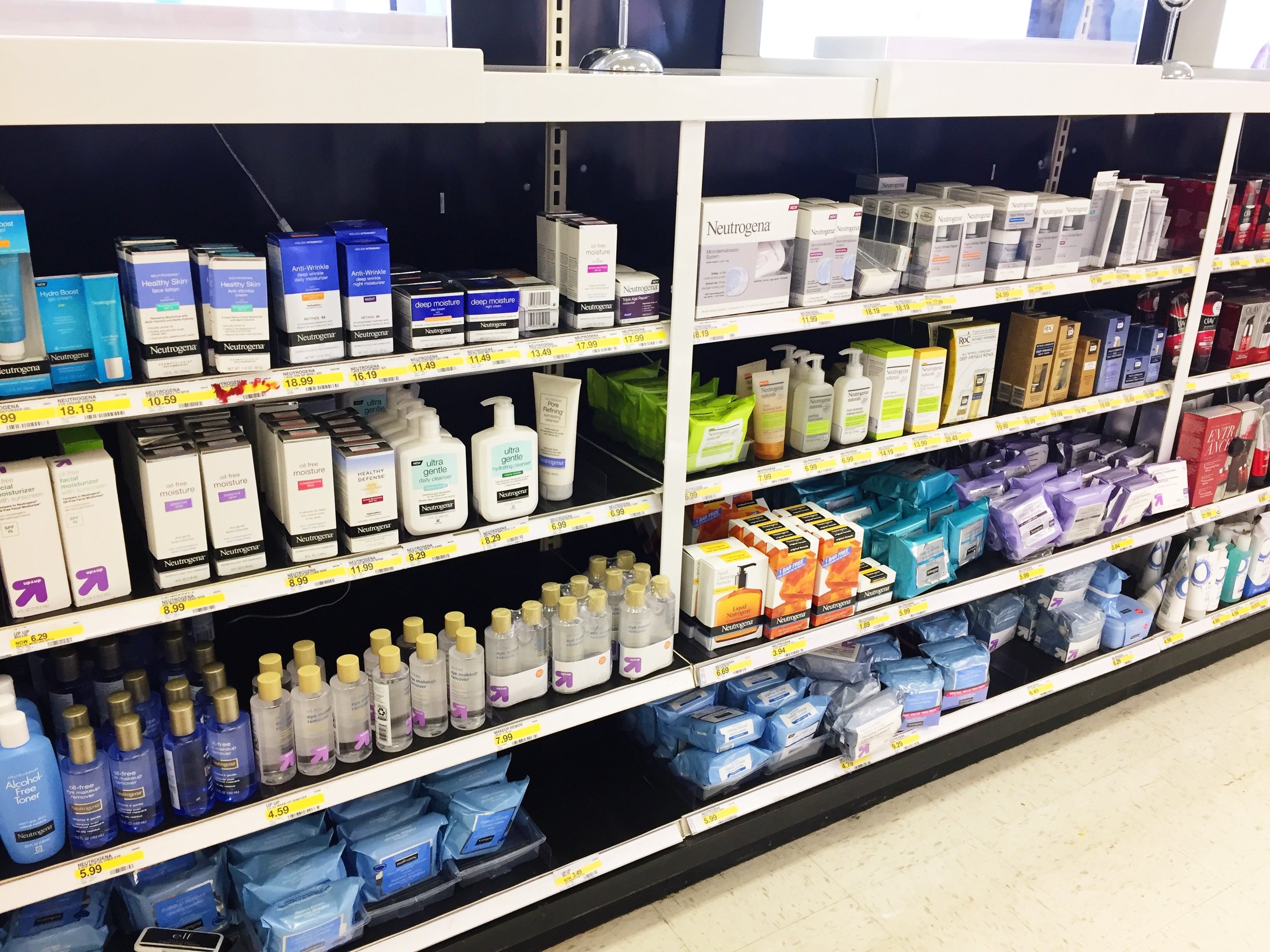 I got my Neutrogena products earlier this week when I was preparing for an outing with my little one. Right now, Target has a special offer on Neutrogena products.
In-store and online Target offer 5/21 – 6/10 & 6/25 – 7/1!
You can get a $5 Target GiftCard when you buy 3 Neutrogena skincare products.
What are your favorite tips for fresh summer skin?
Sources:
( 1 ) Birch-Johansen, F., Jensen, A., Mortensen, L., Olesen, A. B. and Kjær, S. K. (2010), Trends in the incidence of nonmelanoma skin cancer in Denmark 1978–2007: Rapid incidence increase among young Danish women. Int. J. Cancer, 127: 2190–2198. doi:10.1002/ijc.25411
( 2 ) Mac-Mary, S., Creidi, P., Marsaut, D., Courderot-Masuyer, C., Cochet, V., Gharbi, T., Guidicelli-Arranz, D., Tondu, F. and Humbert, P. (2006), Assessment of effects of an additional dietary natural mineral water uptake on skin hydration in healthy subjects by dynamic barrier function measurements and clinic scoring. Skin Research and Technology, 12: 199–205. doi:10.1111/j.0909-752X.2006.00160.x
( 3 ) Popkin, B. M., D'Anci, K. E., & Rosenberg, I. H. (2010). Water, Hydration and Health. Nutrition Reviews, 68(8), 439–458. http://doi.org/10.1111/j.1753-4887.2010.00304.x
( 4 ) Shirreffs, S., Merson, S., Fraser, S., & Archer, D. (2004). The effects of fluid restriction on hydration status and subjective feelings in man. British Journal of Nutrition, 91(6), 951-958. doi:10.1079/BJN20041149